Gracious Giving: Stewardship 2023
"Now as you excel in everything—in faith, in speech, in knowledge, in utmost eagerness, and in our love for you—so we want you to excel also in this generous undertaking"

2 Corinthians 8:7
When Paul was writing these words to the Corinthians, they, like so many of us, were being tested in many ways. Their world was changing and they faced many uncertainties. And yet, these early Christians were able to excel in love for each other.
Love is something we understand at Luther Memorial. This is a warm community filled with people both near and far who support each other. This is evident in the way we meet together before, during, and after church. It also is felt through our online ministry as we receive wonderful notes from members and friends.
In that spirit of love and generosity, we enter into a new season of giving. While stewardship is talked about once a year, gracious giving happens through our actions every day. Gracious giving is a phone call from a friend when you need it most. It is volunteering to teach Sunday School or serve coffee after the service. And yes, gracious giving includes gifts to support and grow the ministries of the church.
We invite you to reflect on the role the church has supported you in this past year. Your gifts will help us as we continue investing in our shared congregation life and ministries.
In Gratitude,
Pastor Russ, Kelsey Oswald, and Lowell Jacobsen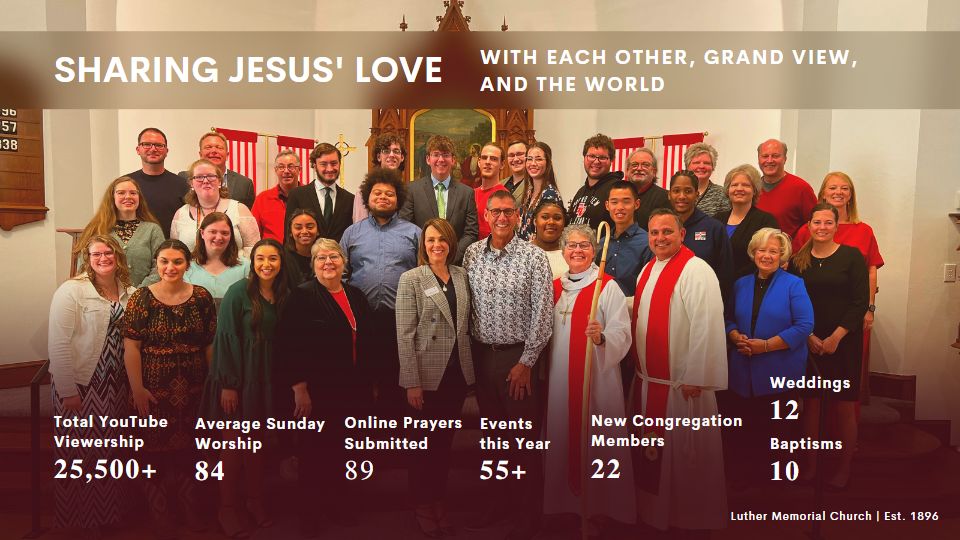 ---
Who should make a financial gift?
Everyone. If you are participating in worship services in person or online, enjoying Bible studies or fellowship groups, or connecting with pastors, we encourage you to make an annual financial gift.
Why should I give?
Giving is an important exercise which allows you to reflect on the blessings God has bestowed upon you and to express your gratitude for those gifts by giving back to the Church. Your gift allows for worship, outreach, education, and other important ministries.
How much should I give?
Your gift should be an amount that is meaningful to you and an amount you can give with gratitude.
I live outside Des Moines, why should I give?
No matter where you are located, this congregation welcomes you! Your gift helps support the new ways we deliver life-changing ministries to friends in communities near and far.
---
Give Online
Give online through our General Offering
Click the button below