Special Music this Sunday | July 11, 2021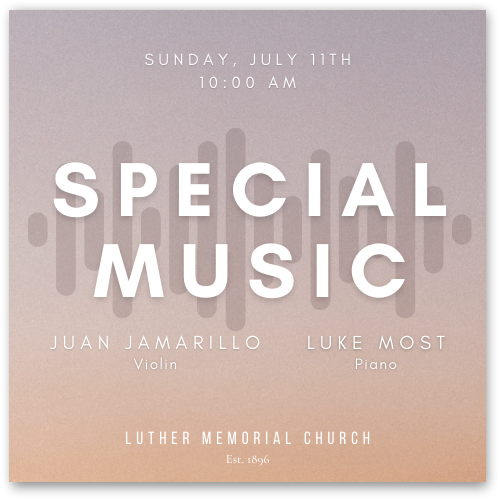 Join Luther Memorial Church on Sunday, July 11th at 10:00 AM to listen to special music preformed during our regular woship service by Juan Jamarillo and Luke Most! After the service, we will have coffee and cookies in the fellowship hall.
Juan Jamarillo | Violin
Originally from Venezuela, Juan Jaramillo, Violin, has been the assistant principal second violinist for the Pittsburgh Opera and the principal second violin for the Altoona Symphony. Also, he was recently appointed Assistant Principal Second with the Wheeling Symphony and 4th Chair First Violins with the Westmoreland Symphony. His chamber music performances include violin and piano recitals as well as chamber ensemble concerts in the U.S., Mexico, Colombia, and Venezuela. During the last few years, Juan received his Artist Diploma Degree from Duquesne University and his Master Degree from Penn State University.
In addition to his studies, Mr. Jaramillo has played with many prime musical ensembles including The Pittsburgh New Music Ensemble, Pittsburgh Ballet Theater, The New World Symphony, Sarasota Opera and The Pittsburgh Symphony. He has also participated in several summer festivals such as The Des Moines Metro Opera, San Miguel de Allende Chamber Music Festival, Deep Creek Summer Festival and Sunflower Music Festival. Mr. Jaramillo has also performed with international artist such as Smokey Robinson, Ann Murray, The Moody Blues, Ray Charles, Bernadette Peters, Vince Gill, the Trans-Siberian Orchestra, Ray Price and Marvin Hamlisch. Mr. Jaramillo is also an active teacher in the Pittsburgh Area
Luke Most | Piano
Luke Most is a piano instructor in the Des Moines area. He has a passion for teaching and collaborating. Mr. Most holds his Bachelor of Music in Piano Performance from the University of Iowa where he was awarded the Martha Lednicek Scholarship.
During his time at the University of Iowa, Luke was an active chamber musician, accompanist, and teacher. He formed the Milanda Quartet and collaborated regularly with vocalists and instrumentalists. Luke served as an accompanist for the Iowa City School District where he accompanied choirs. He taught group piano at the Iowa Medical and Classification Center and maintained a small private studio in the Iowa City area. He attended the Festival of the Americas in Iowa City, Iowa and Medellín, Colombia. His primary teachers included Dr. Réne Lecuona with additional study with Dr. Ana Orduz and John Helmich.